Museum News
Keep up to date with all the latest news!
Replica Mayflower Model news – Work goes on during Lockdown
Lockdown has brought new challenges for the team building the Replica Mayflower model, destined for the Mayflower Exhibition in the Museum. With the Sandquay workshop closed and the almost complete hull of the model frozen on site the project plan has been turned upside down. The ever-resourceful team is responding to Ian Kirkwood's revised impromptu plan, moving the June work to April.
Beavering away in splendid isolation at home on masts, spars, rigging, research and internal contents and re-jigging the background paperwork are: Ian Kirkwood himself with help from Niki, Spencer Wigley, Aiden James, Phil Braakenburg, David Heron, and Bob Hart. Don Campbell is hunkering down and John Alker pleads an inability to travel back from New Zealand! John Lancaster, the Master Woodturner is helping from Barnstaple.  The photos below show the variety and ambition of the work. Home workshops have been modified, tools and equipment moved, and innovative new machines built.  Dartmouth now has its first rope-making facility in hundreds of years.
Regular communication, both stick and carrot applied by Ian, takes place by WhatsApp and raw materials are still bought or collected and ferried to point of need on a 'just in time' basis. Jaguar Land Rover would be envious.
The outcome? We can only fight to reduce the impact of lockdown on the timetable.  Good progress is being made, morale is high and we are all learning new skills. Do contact us if you feel you can help in any way.
Capt.Ian The home workshop in operation producing masts, spars and fittings.
Aiden – the Master Ropemaker. We have a new Ropewalk in town.
David, of Gudgeons and Pintels fame.
John Lancaster's lifelike Capstan
Phil, 'the Block and Tackle'
David, of Gudgeons and Pintels fame.
Bob offering the Queen's Shilling to reluctant crew
Delivery of Blocks, Deadeyes and Rope – with distancing
Spencer –  materials to be bought, delivered and paid for.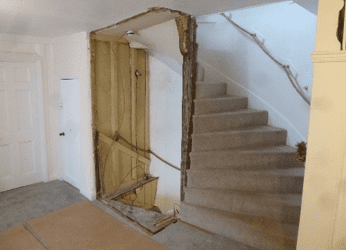 Museum Break ThroughFollowing last year's signing of the lease to extend the Museum upward into the former domestic flat above it, we (and the Council) have had the delicate task of breaking through a 20th Century false wall in the 17th Century Grade1 listed building....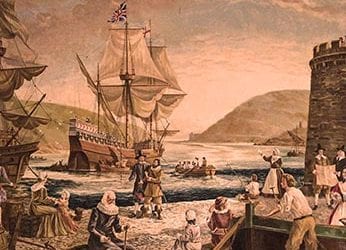 Mayflower Exhibition PlannedWork has started on an exciting new Mayflower exhibition in the Museum, opening in July this year. A new 10 foot Replica Model of the ship will be the star – built in Dartmouth by volunteers under skilled leadership and open from stem to...
Please get in touch with any enquiries.